One reader from Canada sent me an e-mail and asked if the churches have taken a stand on the out-of-control U.S. gun violence.
Good question.
A quick trip via Mr. Google News reveals that the Pope issued one of his many standard statements deploring the incident.
A front-page article Dec. 15 in L'Osservatore Romano, the Vatican newspaper, said the people of the United States must look at ways to "stem the violence that strikes them from within, heinous violence that is increased by easy access to increasingly lethal weapons and this time struck children in an elementary school."
Also a smattering of U.S. bishops issued similar statements.
Related: The National Council of Churches also issued their own statement on the matter. In fact, they issued a resolution back in 2010 that I largely agree with.
The Council's most recent resolution, "Ending Gun Violence, A Call to Action" in 2010, called for a unified effort on the part of churches, government and individuals to address the problem.

The resolution called upon "our local, state, and federal legislators to enact reforms that limit access to assault weapons and handguns, including closing the so-called federal 'gun show loophole,' which allows for the purchase of firearms from private sellers without submitting to a background check, or providing documentation of the purchase.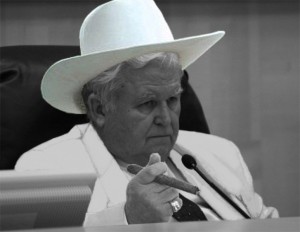 Meanwhile, down South, the Southern Baptists of Virginia issued yet another statement.
How should Christians think and pray in the aftermath of such a colossal crime?

We Affirm the Sinfulness of Sin, and the Full Reality of Human Evil.
The SBC might also want to bone up on their philosophy and reaffirm the biblical aspects of tautologies. But I digress. Dr. Richard Land, president of the Southern Baptists Ethics and Religious Liberty Commission, also offered some "interesting" insights into the matter.
SIEGEL: What's the New Testament justification for owning firearms?

LAND: Do unto others as you would have them do unto you. Love your neighbor as yourself. If you see your neighbor being attacked, if you see your neighbor in danger, you have an obligation and a responsibility to do what you can to protect them.
It would seem that Christian leadership issued the same standard statements it would use for any tragedy, poorly quoted a few Bible verses, and muttered a few prayers.
Problem solved.
I'm disappointed but not surprised. Here in the U.S. Christianity is so embedded with conservative politics that it's a miracle we even got a tepid response. Also, most Americans are Christians and they all seem to suffer from a lack of passion on the issue. Honestly, what will it take to create "national outrage"? Or, are we that far gone?
On August 26, 2012, the New York Times reported that U.S. arms sales totaled $66.3 billion in 2011, or three-quarters of the global market ("U.S. Arms Sales Make Up Most of Global Market")… There's lots and lots of money to be made supporting so-called gun rights and the U.S. and gun manufacturers are the biggest players in that death-dealing market both at home and abroad!

What's needed now is a huge march on Washington and sit-ins at the offices of congressmen and women and senators who remain recalcitrant to strict gun control in the face of such horror.
Don't hold your breathe.
-BCP