I've been upside down for a few weeks now – work has gotten in the way of training. Anyhow, I'm cranking this out tonight so I can do some serious training this weekend!
Martial Arts News: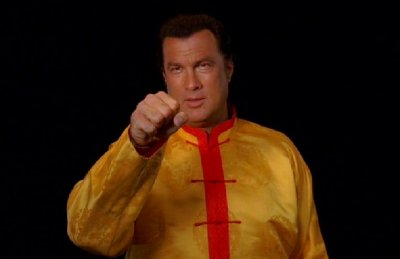 (image linked from Google Images)
I received an e-mail a few weeks back from someone who "may" be associated with the show (I use scare quotes around may because said person could also be some homeless guy at the local public library). Turns out what he told me in rumor is true: Seagal and Lawman both have been renewed for a second season. Looks like the cock-puncher gets the last laugh!
Season 1 of "Lawman" was a success for the network, averaging 2.1 million viewers and 1.3 million adults 18-49, making it A&E's best freshman performance by an original series in total viewers.
Based on knowing that money and paying advertisers both talk, I'm not ashamed to say that I predicted this.  Looks like I better get ready for season two — I may have to rent  a few of Seagal's latest flicks, learn how to play the guitar, and maybe buy some Mardi Gras beads.
Ultimate Fighting Championship executives say they'd support a move for mixed martial arts to become an Olympic sport.
Iron Mike is to be voted into the International Boxing Hall of Fame.
The New York Post quoted a Tyson representative, as saying: "Mike is so delighted. It has been an amazing year for him so far."
I covered this story when it broke. Looks like this judoka is going to county jail.
A martial arts master from Tacoma, Wash., faces jail time for beating up another man after some horse play turned violent at a Menlo Park train station.
At the age of 60, 80 or maybe 100, the karateka grandmas of Korogocho slum are learning the rudiments of martial arts in order to survive in one of Kenya's most dangerous shanty towns.
Choi, who switched from amateur to professional boxing to support her family, is now the World Boxing Association (WBA) women's featherweight champion — still deeply in love with the sport she took up in Pyongyang at age 13.
An Old Bridge karate instructor was sentenced to six years in prison today for having sex with his 15-year-old female student.
"It is used by all defence forces all over the world and can be learnt at any age." Differentiating it from karate, the master trainer said, "Karate is hard, while this is soft.
Hapkido makes its way to Fiji.
We've started our classes last week and we're very impressed with the interested students that turned out from the Suva area.
References to MMA and street defense get college jujitsu club in trouble.
After the Penn State Jujitsu Club was suspended for the second time this year, some members say the university is unfairly branding them as overly violent.
82-year-old man achieves a very high honor in Aikido.
Last week, Mulligan reached the highest level of achievement in Aikido, a Japanese martial art. Mulligan, 82, was designated as "Shihan" or Master Teacher from Aikido World Headquarters in Tokyo.
Once again while surfing the fetid waters of the internet I have stumbled upon this crash on the side of the road. It's terrible, but I just gotta look…
- The Martial Arts Reporter introduces us to
Han Moo Do
.
Han Moo Do is a fairly young style which consists of elements of  Tae Kwon and Hapkido. They probably told me more, but that's what stuck with me.
First month's theme is aiki-shime waza. I was mostly thinking about standing choking techniques, but I leave it to you to where you want to go with the idea.
- Patrick Parker shows us how to
relax
.
One of the best ways I know of starting to relax in the context of martial arts is to get your posture working properly.
- Colin talks about how Tae Kwon Do deals with
multiple opponents
. I can definitely remember being taught this!
A lot of the philosophy of my style deals with the use of an attacker as a shield against other attackers.
This one may get my "cheese" award of the week. It may also depict what goes on in my head at any given moment.
OK, the videos mostly sucked this week so I'll keep with the Kung Fu theme. This one may depict my next career…
-BCP